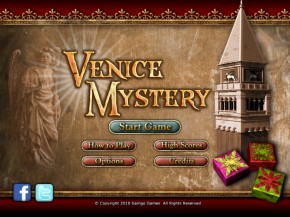 As a long-time fan of puzzle games, it's not every day I find a really great one. To be honest, until I was given this review, I'd never heard of Venice Mystery. I'm really glad I did though, because this is a great puzzle game. As it turns out, well before this iPad version Gamgo Games released Venice Mystery for both the PC and Mac.
If you've played Mahjong Solitare, this game won't be a foreign concept. If you haven't, I'll try to explain it for you. You have stacks of tiles with different symbols on them (in Chinese). You have to match pairs of them that are exposed to reveal lower and lower levels and eventually remove all the tiles. I don't read any Chinese, but I love the game. It's quite relaxing. Venice Mystery builds off this format and adds several good concepts to it.
In Venice Mystery, the tiles are different colors with unique shapes on them. To remove them, you pick one in your base row, then match the same color and pattern with one in the puzzle. If you're quick, can you tap every exposed tile that matches and clear out several at the same time. The one you remove will return to the base and randomly become another tile that's in the puzzle. It's actually really challenging. Your goal on each level is to reveal the hidden keys to unlock the exit. Along with the keys, you'll find buried power-ups in the mix. Some will randomly shuffle your base tiles, some will reveal every power-up and key's hiding spot, others will remove different tiles from the board.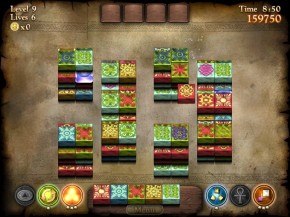 Intermixed with all of these tile puzzles is a storyline. I have to admit, I didn't pay any attention to the story line. I just wanted to solve all the puzzles. I've never been a fan of puzzles with stories, so this feature is completely lost on me. Along with the story, every so many tile puzzles, you'll have to do a puzzle of a different type that relates to the storyline. It breaks up the game pretty well, but I still preferred the main puzzles.
In Conclusion
Overall, this is very solid puzzle game that I can easily recommend. While unable to finish the entire game, I really hope another mode unlocks once you finish the story that just lets you play the tile puzzles. Even being uncertain on that, I'd happily play the story mode through again for extra enjoyment. Venice Mystery is available for $2.99 exclusively for the iPad and there is also a lite version available.